Breath of the Compassionate Movement Meditation
Information on Workshops and Performances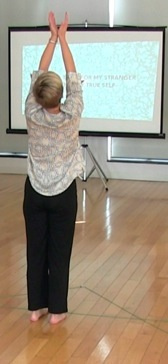 Educate (audience/participant capacity based on venue)
Engage with The Breath of the Compassionate Movement Meditation by observing a performance of the movement, sound and video tessellations. Then interact with its' creator Mary Chase through reflection and discussion on the history, creation and potential impact the work can have for your community.
Explore Workshop (up to 24 participants)
Explore and enliven compassion through a workshop. Gain knowledge on the process of creation, how it relates to the work of The Charter for Compassion and Karen Armstrong's book Twelve Steps to a Compassionate Life. Learn and practice moving this meditation with others. The result of the workshop is merely an entry point into a cycle; a cycle that seeks to cultivate compassion.(open to all: physical/movement accommodations available as needed)
Enliven Day 2 of a workshop weekend
The practice of the meditation with its' creator Mary Chase within a community of movers is a wonderful way to dive more deeply into the work after a workshop. This second day offers a sense of integration with how the sacred geometry inhales and exhales with many movers in a space and how to take the practice out into the world. This day may incorporate practicing in a variety of locations like parks, in the forest, on the beach, in chapels/synagogues/sanctuaries/temples, community centers, or just down the street...
Embrace Practice in a Group
Workshop attendees may want to continue to meet on a regular basis. The opportunity to create a Movement Meditation Group is an excellent way to grow in relationship to others and to continue one's commitment to develop compassion in their lives. Each community can continue to work together to meets their needs. A group coordinator should contact Mary Chase/Chasedance in order to discuss and brainstorm how the work can continue to grow and serve the community.
Self Practice
The meditation stands alone and can be utilized as personal practice for the Mind, Body and Spirit to enliven the richness and vibrance compassion can play in your life. Contact Chasedance in order to access the resources: Movement Cues, Mantras, and Videos for a home practice.